In April, the first in-house Food Collection event took place in Teddy; the food drive was organized by Teddy colleagues and co-workers for local charity organizations. In two days over 1,670 kg of food were donated.
The people who arrived at Teddy, in Rimini, on the morning of 16th April, will have noticed a certain hustle and bustle in front of the entrances to blocks 91, 95 and 65.
Full shopping bags, cardboard boxes, open car boots, a lot of people coming and going, and a stand in the middle presided by colleagues, who, a little clumsily, but with a smile on their faces, were closing boxes, separating tins of tuna from packets of rice "this goes here, actually, no, it doesn't, the milk goes over there", weighing closed boxes, and greeting and thanking people: it was the day of the Teddy food collection!
The same scene took place in Titantex, in San Marino, and on the following day in the offices in Bologna: lots of colleagues donated something, and just as many collected the food and packed it.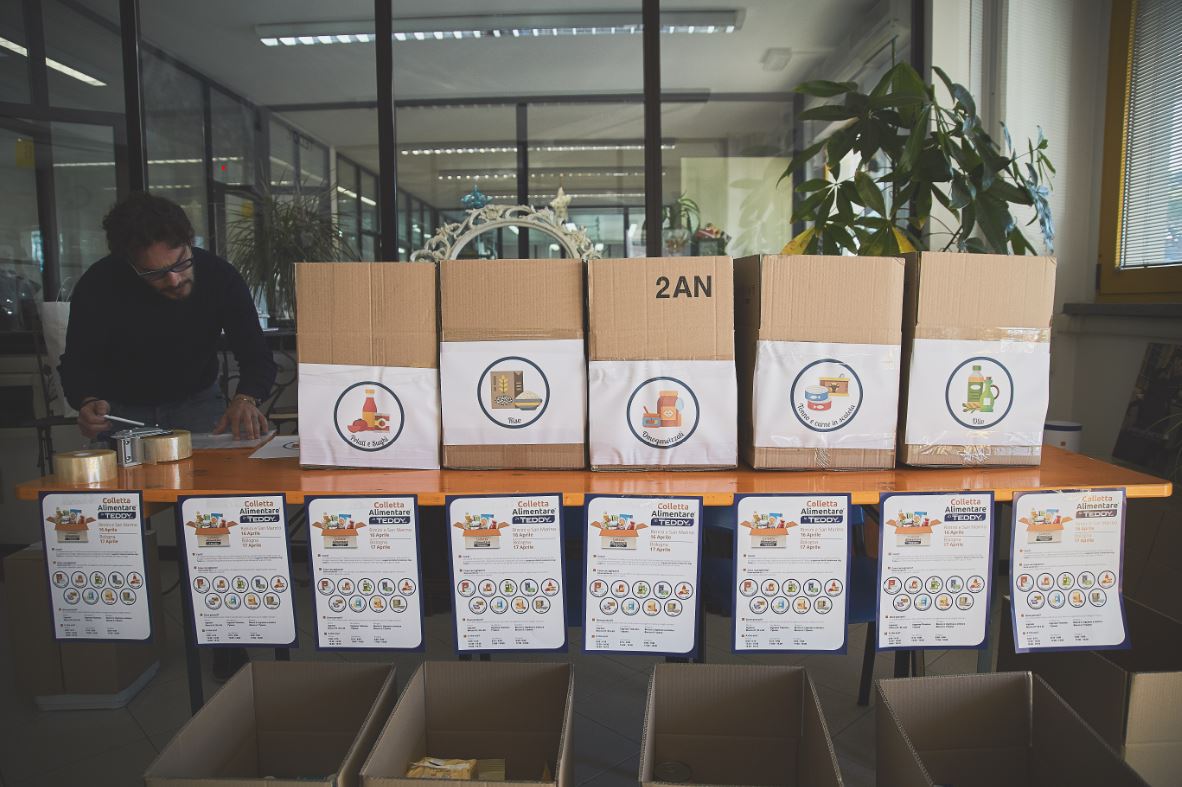 The in-house food collection is a special event that came about thanks to some of our colleagues who are supporters of the Gigi Tadei Foundation, "to share in the experience of giving of yourself to others, which is the basis of the Teddy Dream", which is what they wrote on the flyers and posters that were hanging in the company.
This initiative was inspired by the Food Bank experience, which, for over twenty years, on the last Saturday in November, asks everyone to make a free and tangible gesture of solidarity and sharing, by donating part of their food purchases to people in need. During this day, at a dense network of supermarkets that take part in the event throughout Italy, everyone can donate part of the food they have purchased to meet the needs of people who live in poverty.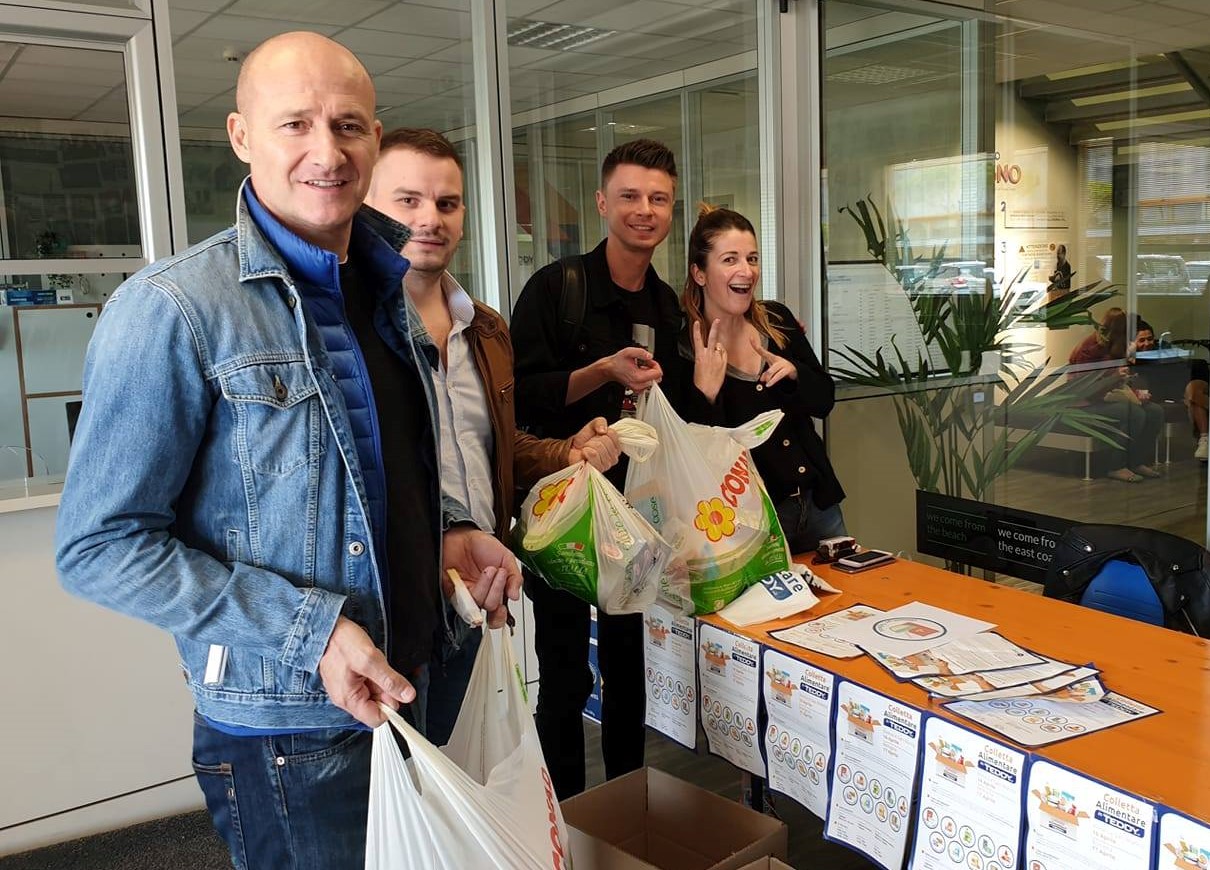 "I decided to take part in the experience personally " – Alessandra Rossolini, Rinascimento marketing assistance coordinator, tells us – "because I know lots of associations for which food collection is vital, and supporting them in the company could have been a great experience."
Veronica Pulga, appointed to People Care, oversaw the collection desk at block 91: " Today, the most precious thing we have is time, and the biggest contribution I could make was to give some of my time to help those in need. ".
Together, the colleagues/volunteers chose some charities in our area that welcome people in need between Rimini and Bologna, to send the boxes of donated food to: some people mentioned a certain organization because they are personally involved in one or because they know of one indirectly, and other people live near one.
The organizations chosen were the Caritas in Viserba, which helps the poor and homeless by providing shelter and by distributing food, clothes and items for young children.

The Casa Sant'Anna Social Cooperative in Rimini, which is a residential organization that welcomes pregnant women, some of whom are underage, and single parents with underage children who are facing hardship due to a difficult parenting situation or an unwanted pregnancy, social marginalisation and exclusion, and problems linked to immigration, abuse and neglect.
The Casa Santa Chiara Social Cooperative in Bologna, which helps the disabled and their families to overcome the difficulties of integration into society by suggesting a different model and approach to disability based not on welfare, but on the inclusion of each individual in society.
And lastly, the Villaggio di Oreste, which is also in Bologna, an organization that is promoted by the Pope John XXIII Association that supports people who face various kinds of hardship through the rehabilitation of people with a pathological addiction to substances or behaviours, the social and work integration of disadvantaged people with addictions and/or mental health issues, sheltering the homeless, and supporting teens facing hardship, and people with serious disabilities.
The 30 colleagues did all they could to get everybody to donate something: a video, and a poster and flyers were handed out to everyone, along with branded bags, and, last but not least, they donated their time to make sure that the stands were overseen as much as possible, and that the shifts were covered throughout the day to enable everyone to bring something.
" We weren't even sure how much we would collect… We took a risk! ".
On the morning of 16th April, during the setting up of the food desks, there was a recurring question: "Will anyone show up?"
Then, surprise! Colleagues with their car boots stuffed, people who went shopping twice, and others who brought bags that were so full of food to donate that they couldn't even get to the stand, turned up.
A wave of gratitude overtook the volunteers, we were told by Alduina Maurizi, who is appointed to Inventory Management and Retail Transfer, as she organized the desk at block 95: "I was struck by the fact that sometimes people don't help those in need because they are afraid to, or because they don't really know where to begin. But if you give them the chance to, they grab it! And they put their heart into it."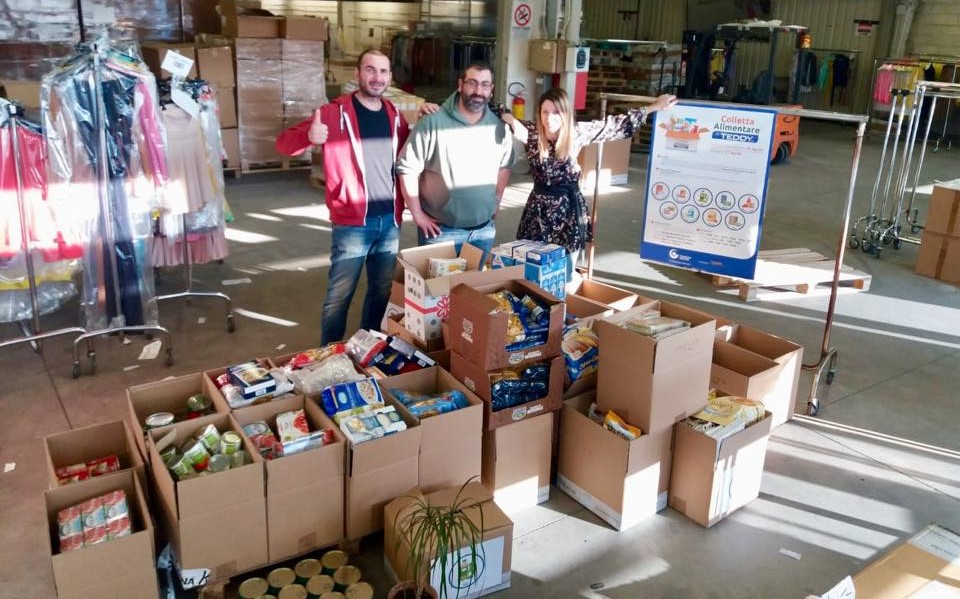 A big heart that involved everyone in the small quarters in San Marino, too: a mere 40 employees collected up to 125 kg of food!
For Monja Pasolini, who organized the desk in Titantex with other colleagues, it was very hard to get out of the daily tasks at work, but it was well worth it because "We experienced a piece of the Dream together. I would never have expected such a response in Titantex. Sharing an idea helps to get a large number of people involved! "
For the whole day there were people coming and going from the desk and it just never stopped, and after the shift done by the guys from Bologna the verdict was amazing: 1,670 kg collected, and a total of 25 boxes!
What is moving is not so much the great result (which is touching) but the help that everyone gave on a voluntary basis, Veronica Pulga tells us: "I was struck by the generosity of the people, the general feeling of enthusiasm, and by all the help that was freely given! It was all spontaneous… some people decided not to contribute or could not, some people rushed to the nearby supermarket during their lunch break to buy something because they had forgotten about the food collection, and others brought us two or three bags full from home in the morning before starting work. We were excited to see so many colleagues who, like us, were so happy to do something for other people. There was a feeling of bonding between us that seemed to go beyond our daily work, but even though we weren't aware of it, with our actions we, too, were contributing to the Teddy dream.
The first edition of the Teddy Food Collection officially ended with the personally deliver by the volunteers of the boxes of food collected to the organizations.
Our thanks go to everyone for their generosity and for the extraordinary helpfulness that was shown during the two days.