Despite the difficulties and the lack of certainty, for Teddy the lockdown was a time to lay down the foundations of the company's future. Pietro Mambelli and Matteo Lessi from the Corporate Communication team talk about two digital projects involving internal workers that begun during those months: Radio TEDDYlife and Workplace live sessions.
We work in a sector that is constantly evolving. This dynamic quality teaches us the importance of always keeping up to date, of experimentation, and of researching new solutions to keep on creating new products. In the fast fashion sector every change becomes a new opportunity, if you are spurred on by the desire to make fashion accessible to all, to give everyone the opportunity to express themselves. Whether we are talking about aiming for market leadership or of helping someone to set up a project, Teddy's aim is to turn every collaborator into a protagonist of the company's activities, because when everyone is proactive and has a desire to achieve goals, the right momentum is created – in the company and in our lives.
With the total closure of the stores and of the headquarters, on 11th March we were faced with a complex challenge. We had to increase distances and diminish personal contact. We had to slow down in order to see how we could adapt to the situation we were facing, and how we could continue to value each person involved in our project.
But we decided not to stop.
The time we dedicated to our colleagues, suppliers and customers resulted in a dialogue that was probably richer than it ever had been before, with new tools and new voices.
Different voices on the same wavelength
"Initially, we were spurred on by necessity – and by the emergency we were in – to keep in touch with our colleagues who had to stay at home during the height of the pandemic". Thus Pietro Mambelli, Communication Specialist, introduced the bright idea of a company radio called Radio TEDDYlife.
It all started with a simple video call between colleagues with music and news and informal chitchat, and day after day it became a way to involve people and share news. Management of the live programming was handed over to Emanuele Pasini from the Terranova Marketing team, due to his talent in front of the screen and to his creativity, along with Claudia Vanni, architect from the external company Store Lab, who came up with some of the most popular programmes like "posta del cuore" (agony aunt) and the daily horoscope. But all our colleagues who were invited onto the programmes became radio protagonists in their own way. The enthusiasm for the initiative was so contagious that the editorial plan soon became full of content, and the programming offered a variety of formats including quizzes, internal interviews, special requests, and even outside guests.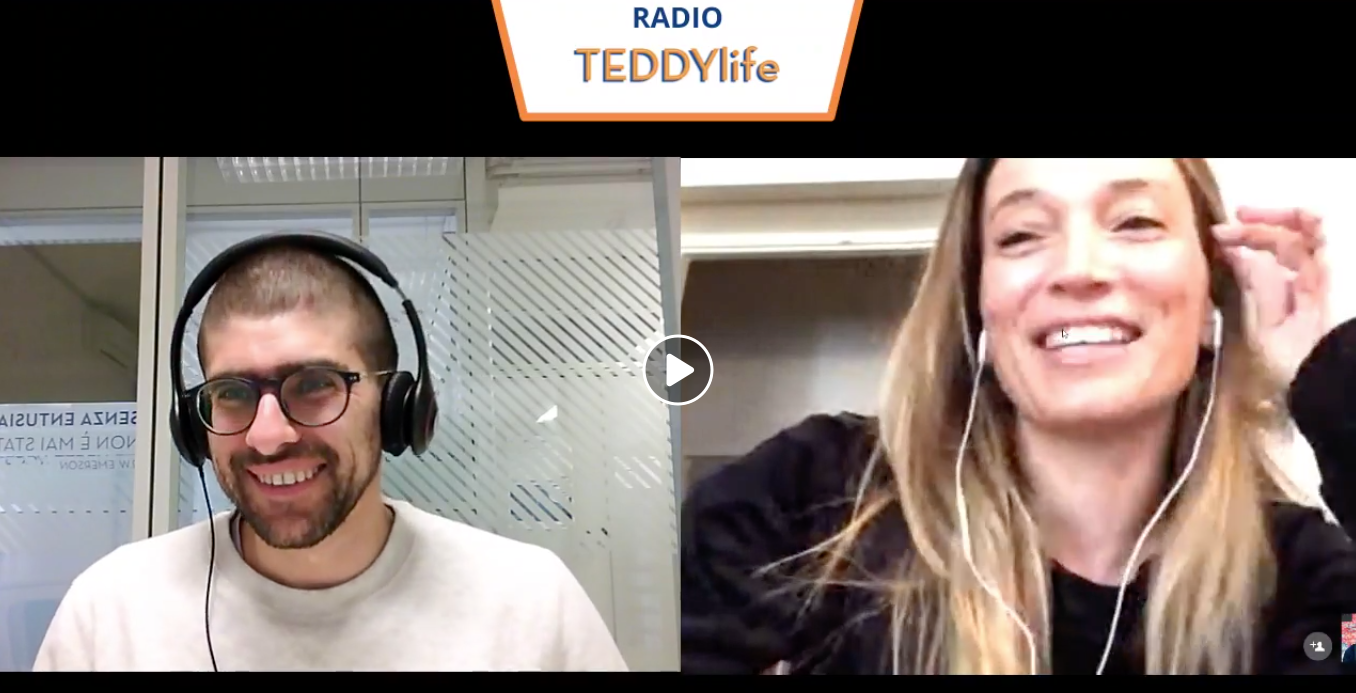 "We listened to voices that could teach us something about the situation we were all going through".
These voices intertwined with those of our colleagues and of our professional and personal experiences. Together, they created a collective diary, a practical manual to better understand what kind of spirit we needed to face the circumstances and get back to work. The ex-fencing champion Margherita Granbassi, who left professional sport in 2014 due to injury, told us what it had been like for her to start over again at that time in her life. And her message reached deep in a company like ours in which "the temporary closure of the stores really did feel like an injury that we had to recover from". The sports journalist Paolo Condò found himself for the first time in his forty-year career in a limbo with closed stadiums and a championship that was put on hold. During his interview, he offered us a lot of food for thought on how to channel creativity towards objectives that are only apparently different from the usual ones. A curator from the Uffizi Gallery in Florence spoke about works of art which became a means to ponder on the importance of beauty, especially in adverse circumstances. Slowing down also gives you the chance to see the reality that surrounds you in a new light, rediscovering beauty itself.
During the lockdown, Radio TEDDYlife became a direct and informal point of reference with the extraordinary involvement of all our colleagues, and as we slowly began to return to our offices, little changed. There are no fewer listeners now: they simply tend to increase during the airing of pre-recorded programmes, which has highlighted a general desire to keep in touch. Which is why we decided that after a short summer break, the Radio TEDDYlife project would continue and become a space for Teddy voices to join and talk about different experiences, ask questions, open up discussions, and present new projects. "We would like it to become the primary channel of communication and sharing in the company, to increase the involvement of everyone in the company mission", Pietro announced.
Face to face with change
During the first two weeks of the lockdown, we continued to keep in touch in the same old ways. Emails and attachments were an everyday occurrence, the live Workplace sessions were only used to communicate with the store staff "Without the human aspect, however, communication becomes more and more detached and inefficient", says Matteo Lessi, Corporate Communication manager.
"We had to get involved personally and meet in front of the screen".
The video of our CEO as he announced the closure of the stores, an event that had never occurred throughout Teddy's history, sparked a form of communication that we had not experimented before, and we decided to extend the Workplace live sessions with all the most important company communication, so we could reach over a hundred people at a time. This choice, which was dictated by the exceptional Covid-19 circumstances, in actual fact only accelerated the digital transformation that the company was already undergoing, and the benefits were immediate and shared by everyone.
Communication in real time enabled us to talk clearly and effectively about delicate and complex issues such as the general "health conditions" of the company and the explanation of the new measures adopted, and it helped to prepare everyone for the reopening of the offices and of the sales points. We were also able to take into account the KPIs, so we could see how many people were watching a particular message, and how we could make it easier for those who were not online to find a programme at a later time. Because quite often, what makes all the difference in a company is having the right information. In these terms, the live Workplace sessions facilitated everyone's productivity.
But there is more still. Getting personally involved and seeing colleagues' reactions in real time made the tone of our voice warmer and more sympathetic. Anything but cold technology! "What makes the difference is who is speaking, not the tool that is being used", explains Matteo, who in the past months has given a lot of advice to colleagues using Workplace: "think of a few faces, of the colleagues who are on the other side. That will help you to be warmer and to really speak to people, and try to communicate what you are experiencing, and that will change your tone of voice". And perhaps it is also due to our approach that the digital transformation has left no one behind, on the contrary, it has involved more people than ever.