With the opening of its 55th point of sale in Rome some weeks ago, Rinascimento seems unstoppable. The Italian brand keeps on growing after the Fashion Show of 2019/2020 Fall/Winter collection.
Rinascimento is the Made-in-Italy womenswear brand of Gruppo Teddy, the expression of femininity with a hidden drive and a true awareness of being a real woman, romantic sometimes, but determined and tough when required, ready to live life always as a protagonist.
In 2018, the brand opened more than 50 flagships in Italy, thanks to the new store format launched last year and to the opening strategy that this year allowed it to open stores in Sicily (in Catania and Palermo), the first point of sale in Sardinia inside Le Vele Shopping Centre, after the openings in the most important shopping centres in Northern Italy: Orio al Serio, Arese, Verona Adigeo, Roncadelle (inside Elnos Shopping Centre) and Genova, inside Fiumara Shopping Centre.
Andrea Baffoni, Teddy Brand Development manager, commented this trend:
"This is a key moment for Rinascimento; there is no other fashion offer like ours on the market. For shopping centre, Rinascimento is a very distinctive product for customers, different from others. Opening a modern boutique featuring an elegant and womanly store format helps to promote our Made in Italy, this is why our stores keep being opened in shopping centres. Ours is a high-profile opening strategy: we try to open stores only in the best locations and this allows us to boost a positioning in line with brand values. The first months of 2019 confirm the steady increase in Rinascimento takings, bucking the market trend that is experiencing many difficulties; I think we can say this is our time!"
In just a few years, the brand won the retail market and customers, becoming the ambassador of Made-in-Italy top fast fashion. Thanks to the Italian manufacturing tradition, the fast turnover of new stocks in stores, the ability to detect and exploit the latest trends, a great quality-price ratio, combined with creativity and variety in the clothing supply, Rinascimento won the hearts of customers, who built a faithful, loyal and sincere relationship with the Italian brand.
Identity and character drove the brand's success, as it keeps on growing and aims at offering increasingly more services to its customers.
Luca Antonini, Manager of Rinascimento Retail Division and brand assistant manager, explained it well:
"Our customers are giving us a great and valuable feedback, even in this tough 2019 Spring/Summer season. We were able to achieve those results thanks to the close collaboration among the different "souls" of the company: product, communication, visual and digital strategies. I see my colleagues and collaborators believe more and more in what they do in order to understand how to be increasingly closer to our customers; I see a growing wish to exchange each other views, which is something that enriches everyone.
For example, with regard to communication: the number of our Instagram followers is growing, today we have 228,000 followers, and the level of interactions for every post is amazing, which means a growing passion for our brand by our customers. We are fine-tuning the tools to measure how many customers this bring into our stores, but we can certainly say that there is a close connection between the traffic generated on Instagram and the number of customers popping into the stores.
With reference to our product, which is the body and soul of our brand, over the last months we focused even more on our strengths: the dress for the special occasions our customers may look for, but more in general we aim at creating more shopping occasions during the season as to be able to offer our customers new products every week, which were selected just before being displayed in the stores as to be always in line with the latest trends.
The latest product from our collection launched was displayed in the stores during the week of the 17th of June, while a week before we displayed products from the Autumn/Winter collection. We really give our customers new products every week of the year!
We are testing different omnichannel services, which help us to reflect on all our actions from a cultural point of view, starting from what customers ask from us, from our constant effort to put ourselves in "their shoes"."

On last June 4th, inside the beautiful Palazzo Re Enzo in the heart of Bologna, the dresses of 2019/202 Autumn/Winter collection were showcased on the catwalk before the eyes, and smartphones cameras, of customers, journalists and influencers.
What was the theme of the evening event? Like a Diva! A modern diva showing her different souls and the different times of the day she lives, in a parade fully displaying themes and colours, never doing without Rinascimento iconic glamour feature, where innovation and tradition coexist in perfect harmony.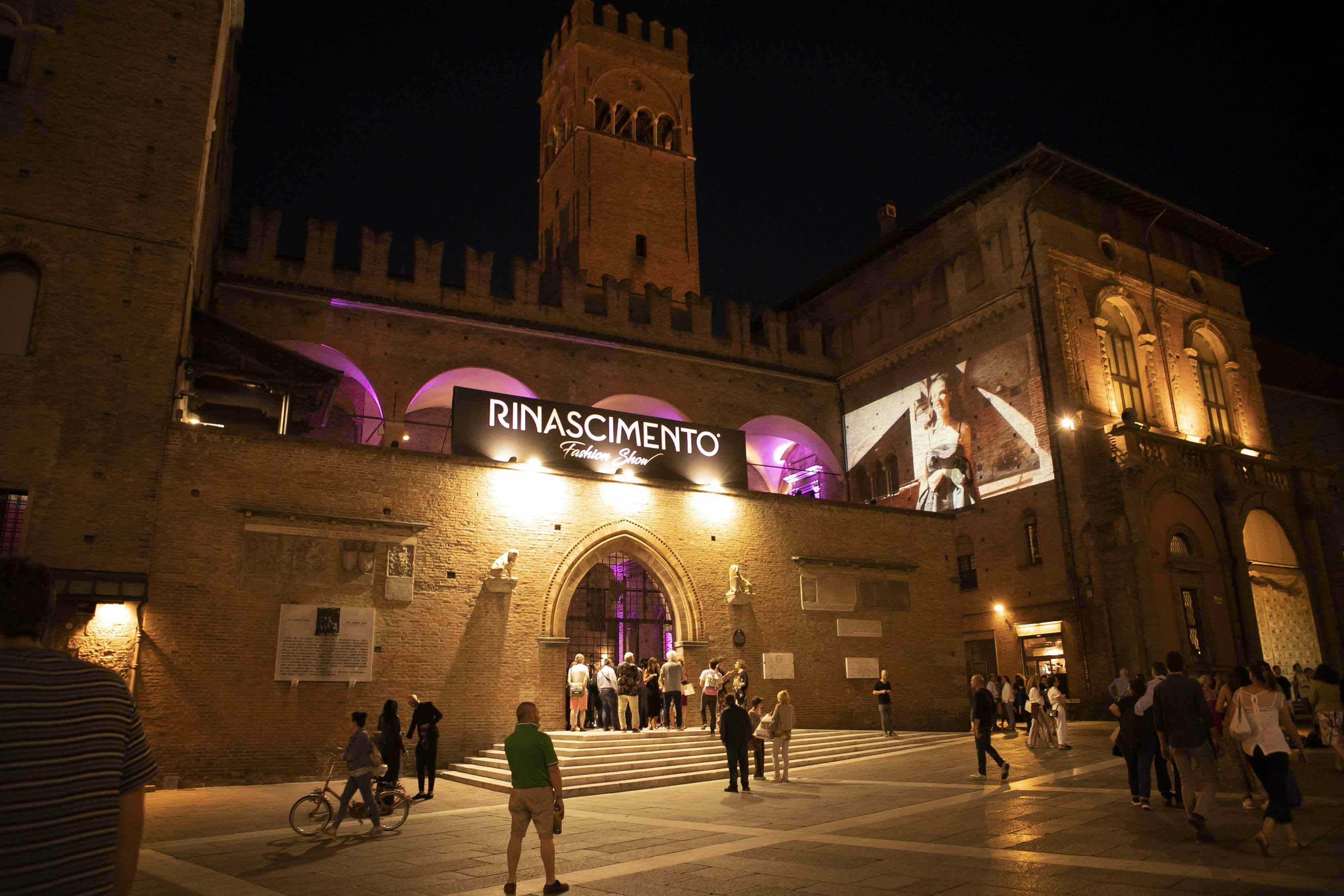 Emma Tadei, Rinascimento General Manager, welcomed guests before the show started: "Practice makes perfect! We were able to move our first steps forward thanks to this. We started to design and manufacture Rinascimento product thanks to this, with the aim of positioning our brand among the best 20 European brands. We were thus able to build Rinascimento retail network, learning from difficulties and mistakes. It was not a straightforward, unchallenged path! ".
Rinascimento coupled the franchising formula "on a sale-or-return basis" (with constant and guaranteed margins on takings) and many other services for its franchisees, with a new franchising formula called Fits you. The new franchising formula is based on the close and continued collaboration with franchisees, on shared decisions about clothing purchases and a shared knowledge of the market, as to be able to build together a rewarding sales path, thanks to products always in line with the latest trends, a specific and dedicated sale programme and loyalty and marketing services.